Was up visiting my friends from college yesterday so I had to be extra spiffy.
*Vintage Champ fedora (more below)
*Modern Arrow shirt
*1930s "Sugar and Spice" tie
*Modern 6x3 jacket
*Vintage vest
*Vintage watch chain
*Modern full-cut trousers
*Socks from the Gap
*Modern spectators
*Modern suspenders
Click on the first photo to enlarge.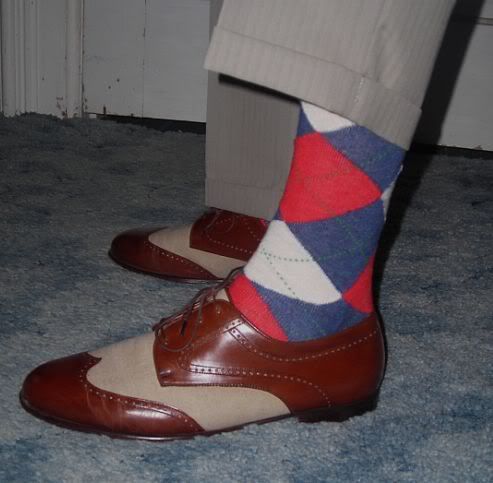 I must say, I love that 6x3 jacket. It fits me so well and the lazy peaked lapels are so early 20th century in design.
I was also pleased how a sliver of sock showed when I walked, matching with my red pocket square. And while the tie was subtle (allowing the socks and pocket square to steal the show), it added nicely with a touch of color. Yes, this will be a great summer suit.

But what about the hat?


Well, it's a new one to me. It is a 1940s Champ "Diplomat" in "light Ecru". Size 6 7/8", it's a tad small (though it fits me more like a 7") but I was able to stretch it to a more comfortable size. It's in absolutely perfect condition. It's an unusual pinkish-tan/salmon color with a chocolate-brown ribbon and tan edging on the brim. Looks very much like the desirable Stetson Whippet. $4.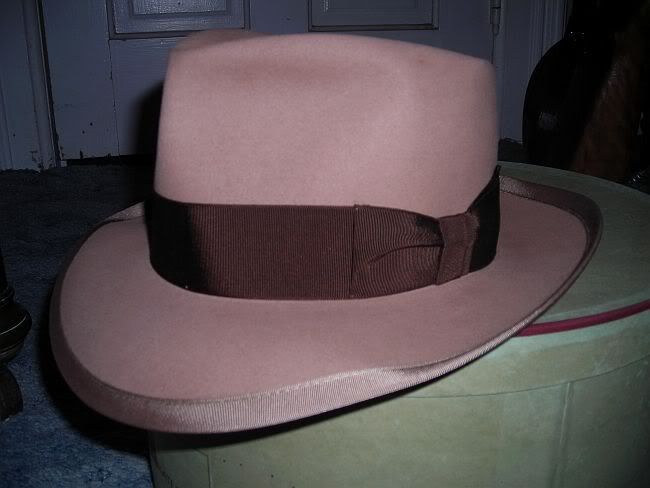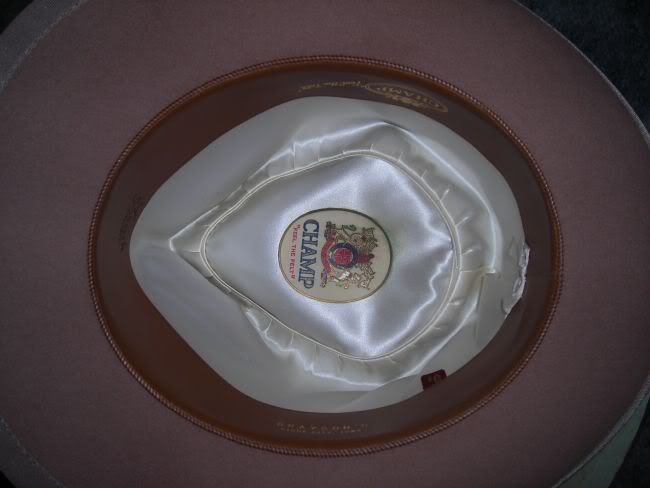 If you have ever found something of great value then you know what it was like for me finding this hat.


The second is an Imperial Stetson, size 7 1/8" (just my size). It has about a wide 3" brim and around a 4 1/2" crown. Tan in color, it has decorative stitching along the brim and on the felt ribbon. Dobbs made a hat in a similar style called the "Gay Prince".
*giggle snort*
Of course, it had a different meaning back then, but it's so difficult to remove a connotation from something that's been so ingrained into our society.
It has the softest felt I've ever seen. Even with steam it doesn't want to keep a bash; there's no stiffener at all. Unfortunately it has a couple of stains and moth nips, though they are on the top of the crown so they can't be seen when it is bashed. $10.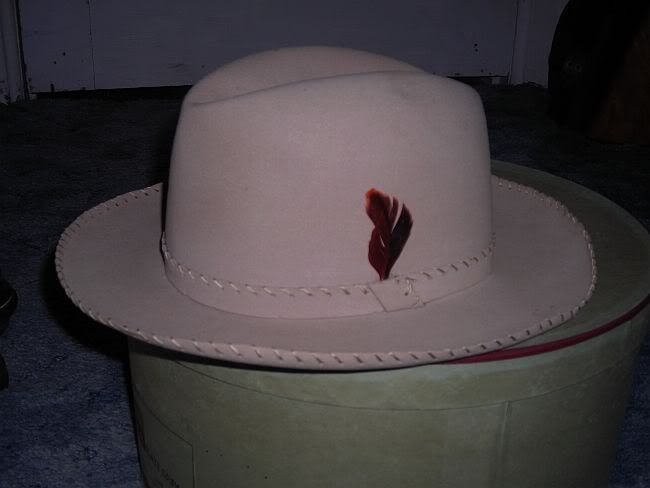 Proof that nice hats are still out there.
Billy