I've been asked how this interest in vintage clothing began. But it is not just an interest in vintage clothing, it is an interest in vintage everything. Clothing is, surprisingly, just the easiest and most visible part of the vintage interest.
I first started out with the military aspect of the Golden Era. World War Two was (and still is) one of my main points of interest. My first serious collection was collectables of the Second World War, mainly of the United States though I have also ventured into other nations, namely Germany and Japan. I have also ventured into other time periods, all the way from the American Civil War up to the Vietnam War.
The first piece of my newly born collection 6 years ago was a beat-up pair of leggings I bought on a whim while waiting for my parents to slowly work through the antique mall. When I bought them it hit me: these were a part of another person's life, part of history. I can own a piece of history.
And so the collection grew. But one cannot easily focus upon one aspect of a time period without looking at other aspects. I could not just study the military side of the Golden Era without travelling into the civilian side. Thus came my budding fascination in all things of the Golden Era, not just the World War Two aspect.
And I still have those first leggings.

So, to end this post here are some of the more prized and interesting pieces of my collection.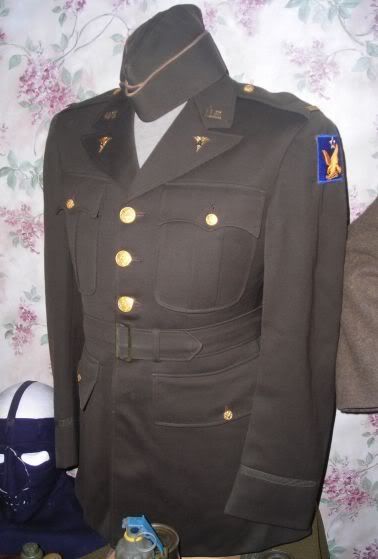 Class A uniform of a medical officer in the 2nd AF.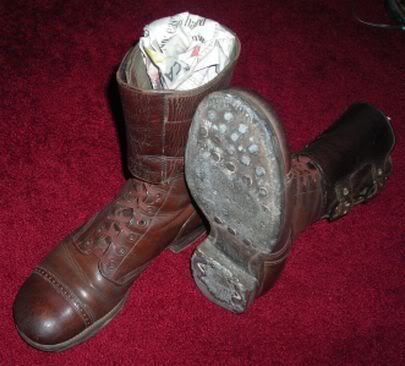 A pair of rare British-made (note the hobnails and leather soles) garrison shoes converted to M43 "double buckle" configuration by the addition of leather cuffs.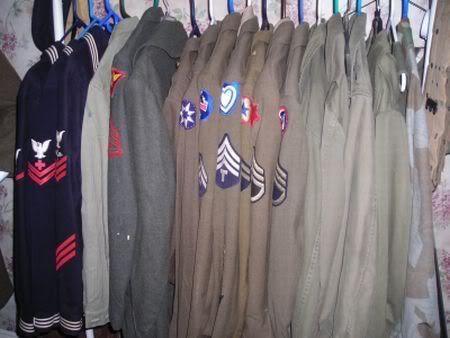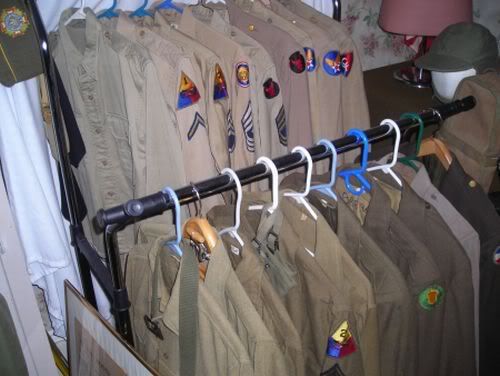 I have a bit of experience with uniforms.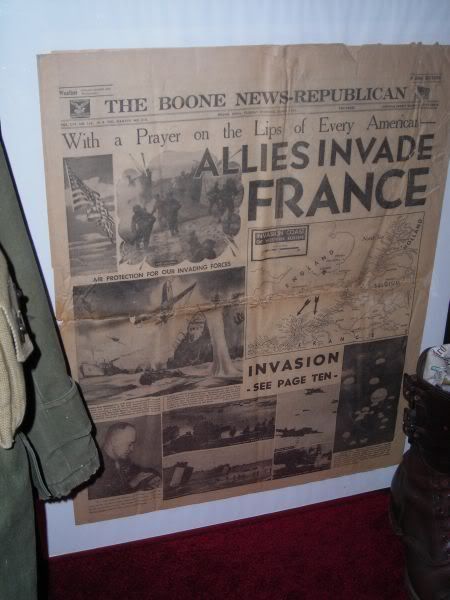 A local paper announcing the invasion of Normandy. Dated June 6th, 1944.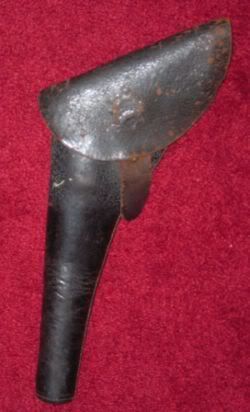 Like I said, while most of my collection dates from World War Two era, I do have pieces from other times. This is a Union American Civil War Model 1863 holster that was made to accomidate the numerous different revolvers and revolver sizes in use by the Union Army at the time. This is a rare and incredible find ($25 at an antique mall). It's in excellent condition for it's age, the leather being soft and supple, though it has a field modification to the closure strap and the belt hanger has been torn. Even so, it is still a proud piece of American history.