This morning I felt a tinge of Fall in the air, the first time this year. Sure, there's still plenty of warm weather to be had but there's no reason why we can't look forward to cooler temperatures, when the style envolope is flung wide open after the slow summer season.
Ironic that over the weekend I was lucky enough to pluck this fantastic overcoat from a somewhat local junk shop.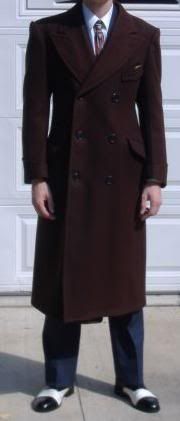 At first it struck me as a woman's overcoat since it could be buttoned either left-over-right or right-over-left. The fancy adjustment belt on the back and the nipped waist also made me think "female".

But, thankfully, my first impressions were wrong. It is indeed a men's overcoat and a fancy one at that. Overall it weighs 6 pounds and is just over 4 feet long. Definitely not a woman's coat.
What this reminds me of is the type of coat you would often see in those stylized 1920's clothing advertisments where men have impossibly thin waists and long, skinny legs.
And as you can see in the picture, like those old advertisments suggest, the waist is exceptionally thin! Several darts above the pockets and in the back create the thinning shape that you see. You won't see many overcoats like this one anymore. It is completely outdated, which makes it a beautiful thing.
And it was not a common man's overcoat, no, it was meant to be worn to formal occasions by someone who could afford it. The huge, deep peaked lapels convey power as does the double breasted construction. The back belt adds a bit more flare to an already stylish coat. The nipped waist shows off the wearer's athletic build. And it does all of this while keeping the owner warm on a frosty day.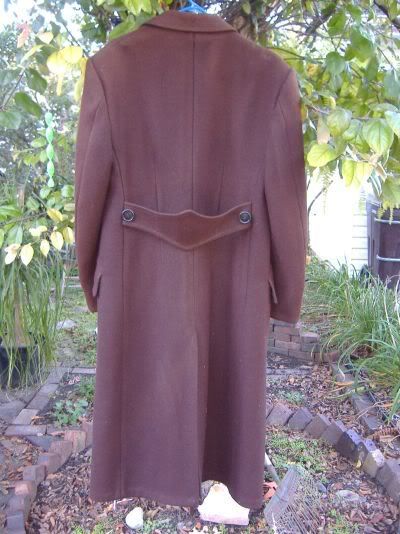 What would you pay for such a coat? Probably quite a bit, especially if it fit well. However, you'll be amazed to know that I handed over a sinlge Hamilton to add this overcoat to my budding collection. This speaks volumes. Yes, there still are good deals out there just waiting to be had. And you don't have to pull your hair out dealing with Ebay.

Just frequent so-called 'junk shops' A.K.A. thrift stores. Antique shops also have good finds occasionally, though they may be overpriced. Some of the nicest things are pulled out of the deepest, darkest most dirty corners of the junkiest places. This overcoat is a testament to that. All you need is a wee bit of patience.
And, if you're wondering what I wore today here's (unfortunately) a poor quality photo. The suit is modern, 100% wool, has a beautiful blue plaid pattern and was found at a local Goodwill. The tie is vintage 1950s, shoes are Botany 500's and the hat is a vintage 1950s Royal Stetson.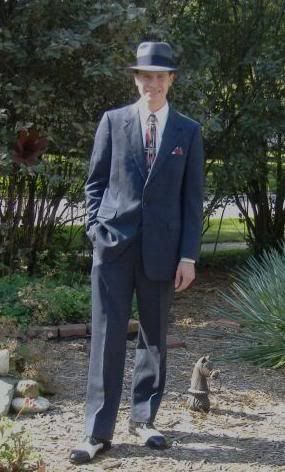 So, here's to a new coming season. May you enjoy the cooler weather and the beautiful colors. Cheers from a happy camper.

Billy