Autumn is coming around early this year. A cool nip was in the air so I needed something a bit warmer.
Enter the flannel suit.
click to enlarge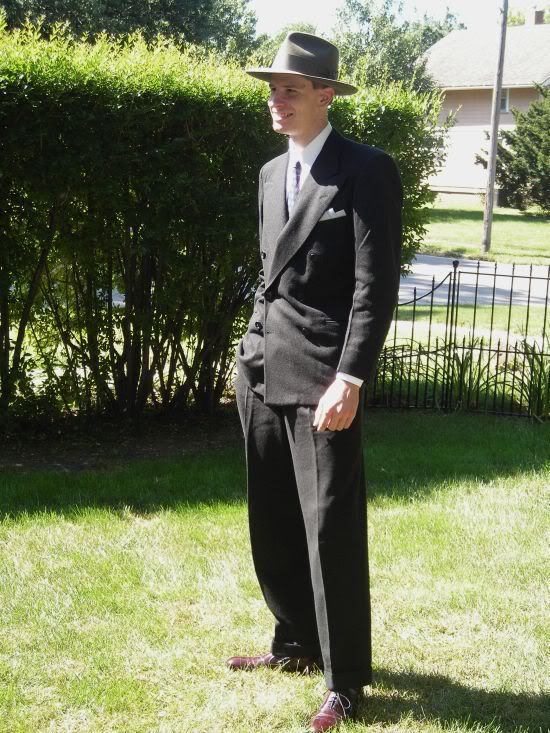 What you see me wearing is a wonderful mid-1940s flannel suit. The hat is a mid-1940s Dobbs, the tie is from the 1930s and everything else is modern.
click to enlarge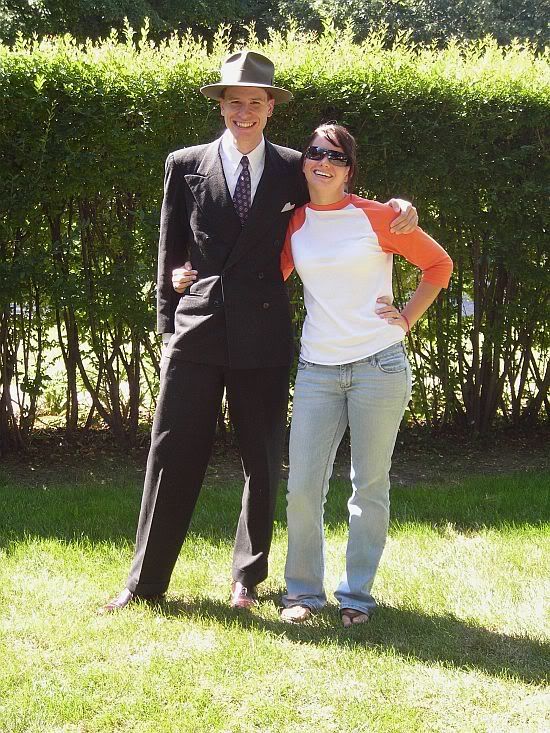 With the cous.

Sorry for the poor quality pics above, the lighting was not the best and dark suits are so hard to photograph anyways. So, here are some better quality photos:
click to enlarge
Very large lapels. A nicely pinched waist shows us this suit does not fall into the "Bold Look" category that was just taking hold in the U.S. about the time this suit was made. There's no maker's label (it was removed sometime in the past) but it does have a 1939 union tag, helping date the suit. The trousers also have "Gripper" snaps and a "Conmar" zipper.
click to enlarge

While zippers were first used in trousers in the mid-1930s and therefore don't help in dating this suit, the Gripper snaps do. Gripper snaps, getting their name from the company that made them, are notorious for being used mainly in the mid-1940s, thereby placing this suit within that time period.
It's a lovely suit. I traded a too-small mid-1940s wool 3-piece suit with a fellow in England for this flannel suit. We're both happy with the trade since we both got vintage suits that actually fit.
Vintage flannel suits are somewhat rare too, making the trade even better.